The retail industry is undergoing a technological transformation with the advancement of technology in the 21st century. Retail is currently one of the sectors that are most digitized, placing additional obligations and setting the bar high for both entrants and existing industry players.
The traditional brick and mortar stores now have customized in store experiences. It is time to transform these brick and mortar stores into pop up stores that can generate retail sales.
Total retail sales in the United States are expected to amount to $5.94 trillion by 2024, according to Statista. Mobile devices define the experience of the client's shopping journey. It enables consumers to make choices wisely and in no time, and it also allows retailers to assist customers and collect accurate information about purchasing decisions.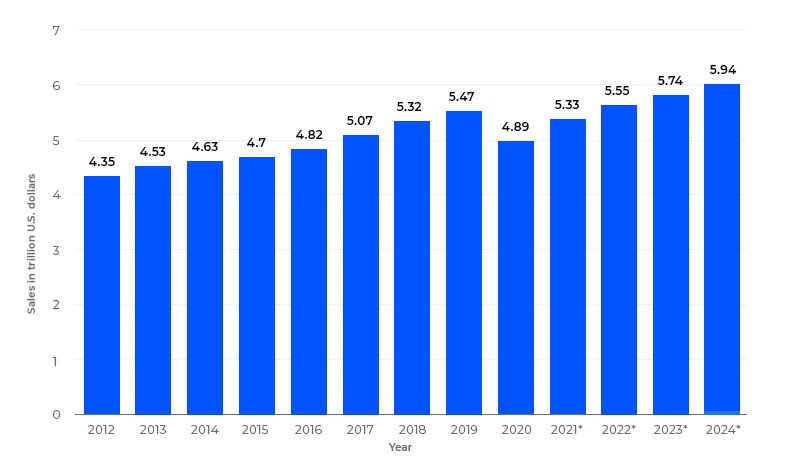 With the staggering growth in eCommerce and mCommerce, increased emphasis on the customer, and advanced automation capabilities. The key elements of their strategies for digitization include:
Omnichannel Shopping Experience
Although mobile application development and online presence are definitely very important for a modern retailer, you can only open up the full potential of your company by seamlessly incorporating all shopping channels.
As a legendary physical store owner, you can invest in a mobile application to provide an omnichannel experience, track shopping behavior, and for effective brand management. 
Limited footfall in the physical store allows owners to offer a niche in store shopping experience to frequent visitors.
Optimized User Journeys
Digital companies always put the consumer first. Therefore, most retailers are actually using data analytics to obtain actionable information about the behavior and desires of their customers. This enables them to tailor their deals and provide customized experiences accordingly.
In-store digitization
For better consumer interaction and rich in-store experiences, use beacons linked IoT devices, and smart digital hubs/stations. The technologies deliver a broad range of possibilities: from indoor navigation, delivery of contextual advertisements, and consumer self-service.
Advanced Payments Options
Retail brands are moving rapidly into the digital future by embracing creative payment strategies. Consumers would soon move from cashless to cardless, from Apple Pay to Tesco payments, so companies should be able to keep up.
Digitized Customer Service
The increasing adoption of artificial intelligence and the massive popularity of chat apps unlocks customer service opportunities, to automate a variety of routine business processes. Retail businesses are able to minimize workers while improving productivity and customer loyalty by using a smart bot to manage most of the usual problems, such as answering standard questions or managing returns.
Warehouse operations
To control the inventory and supply chain effectively, digital tools can be used. You increase staff agility and efficiency by providing mobile capabilities and allowing bring-your-own-device (BYOD) policies.
Automated Checkout
Many times, you must have noticed how long queues prevent your customer from purchasing products. Using IoT, when a customer leaves the store, it is possible to set up a system that can read tags on each item. An IoT-enabled checkout system would automatically tally up the items and deduct cash from the digital payment app of the customer.
It would make your consumers happier to develop an automated checkout system with IoT devices and they will be willing to enter your store again and again. Automated checkout systems, according to McKinsey, can reduce the need for cashier employees by up to 75 percent.
Smart Shelves
The energy and time of retail employees are usually focused on tracking items to ensure that items are not out of stock and checking items if they are in the right place. The concept of smart shelves can be introduced using IoT to automate both of these tasks while simultaneously identifying thefts.
With RFID tags, weight sensors and readers, smart shelves are designed to search items on both stock and display shelves. You will get to know when you have fewer items on the shelves or when items are not correctly put on a shelf by using smart shelves.
Smart shelves will track in-store robberies, saving you money on cameras and security workers, since each RFID tag is linked to the reader.
Virtual Trial Rooms
Trying out different clothes can be time-consuming and very stressful when shopping to buy an outfit. Consumers can try out clothes using virtual rooms fitted with digital mirrors without having to change them over and over again.
A customer can mix and match various clothes, shoes, and accessories with a touch-based and gesture interface to choose the final look and determine what to purchase. It reduces the time that people spend on making buying decisions.
Merchandising and Promotions
One of the most important ways of customer improvement
inside the stores is to concentrate on merchandising. Digital technologies are helping to tackle this challenge and also hold a strong promise to enhance the store presentation.
For example, apparel retailers can drive customer excitement by using 3D scanning technologies to create virtual fitting rooms that enable shoppers to see what specific items on them might look like. This technology records the dimensions and contours of a customer, featuring style questionnaires
The customer already owns preferences and clothing, and then creates a customized profile that accesses stores and online.
Loyalty Programs
Customer satisfaction and engagement can build or destroy businesses, and as such, loyalty incentive programs for all forms of companies reflect strategic investments. "Loyalty becomes more fragile as choice increases. The digital consumer is more empowered. Globally, technology-enabled loyalty programs have seen great success.
QR Codes
In-store, to get more detail, customers can scan QR codes on products (including the exact date food items were harvested, sourced, and delivered). It is also possible to make payments via the mobile app, making shopping fast and convenient.
Autonomous Shopping Carts
Intelligent shopping carts that follow customers around the store (instead of having to be pushed). This ensures that consumers can keep their hands free, making it easier to concentrate on taking care of kids and other personal tasks.
What Brands Are Doing
Some retail brands have already reimagined their operations to keep up with the challenge.
Target- Personalization and Customer Loyalty
Target, the second-largest retailer in the United States, started its digital transformation efforts and has been able to produce some impressive results so far. The business used Beacon technology across 50 US stores to introduce one of the most critical means of digitization.
The Bluetooth-enabled devices are able to monitor the indoor position of the customer and submit customized suggestions and timely updates on nearby sales, keeping users engaged while in the shop.
In addition, using in-store navigation, shoppers can quickly spot the items from their shopping lists.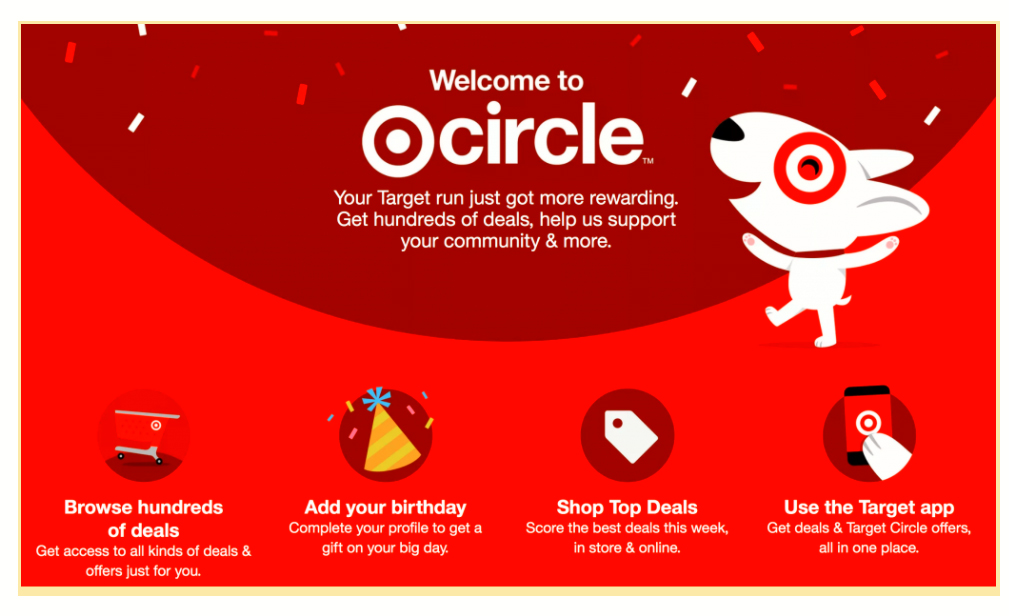 Data and analytics are considered one of the big priorities for the organization. The Target app is not only one of the most powerful weapons in the company's digital arsenal, with over 27 million users, but also a rich source of insights into consumer behaviors patterns, and shopping habits. Moreover, Target has launched its mobile payments system.
Sephora- Merging In-store and Online Shopping
The winning digital strategy of Sephora relies on the customer-centric nature of the brand and its ability to combine digital and physical shopping experiences perfectly. The first digitally-enabled store, which opened in Paris, provides all the benefits of online shopping, plus enables hands-on exploration, such as sampling the items, watching videos, and engaging in beauty workshops.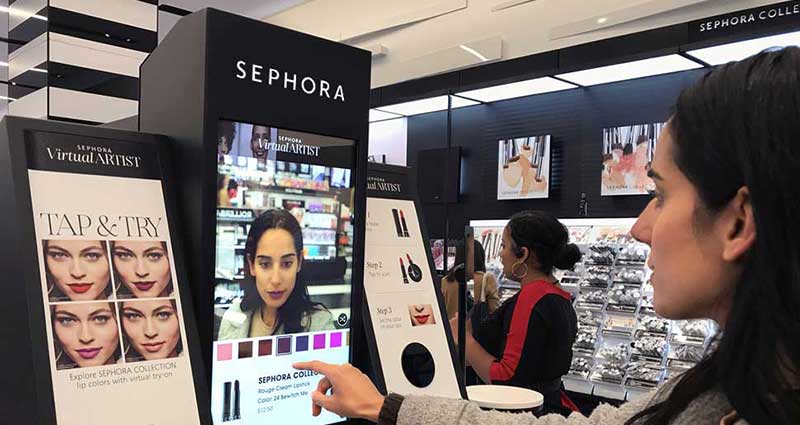 Sephora allows customers to "try on" their products with the aid of augmented reality. Namely, a virtual "Visual Artist" tool has been developed by the company. This smart chatbot will help you to imagine various makeup styles and products after uploading your photo via Facebook Messenger, provide personalized feedback, and give some things you may want to buy.
Shopster- Offline-Online Shopping
Brainvire's team designed this app so that retailers can communicate with their loyal customers even during the lockdown. The client wanted their vision to be converted into a reality within a period of a fortnight. Our dedicated team developed this interactive platform so that retailers can upsell, promote, and connect with their loyal customers.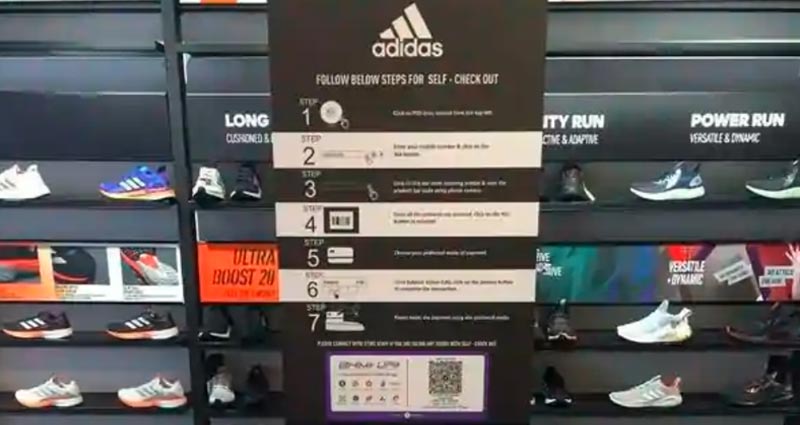 The client gained immense benefits during the tough times of lockdown, by the application where users use to shop online and schedule the pickup or purchase from the store, similar solution is use by Adidas for the omnichannel shopping experience to the customer.
IKEA- Decorating Homes Virtually
With the help of a smartphone application using augmented reality, IKEA has improved user experience. IKEA Position, available on Android and iOS, is essentially an app that allows you to use AR through a smartphone's camera to suit pieces of furniture in your home.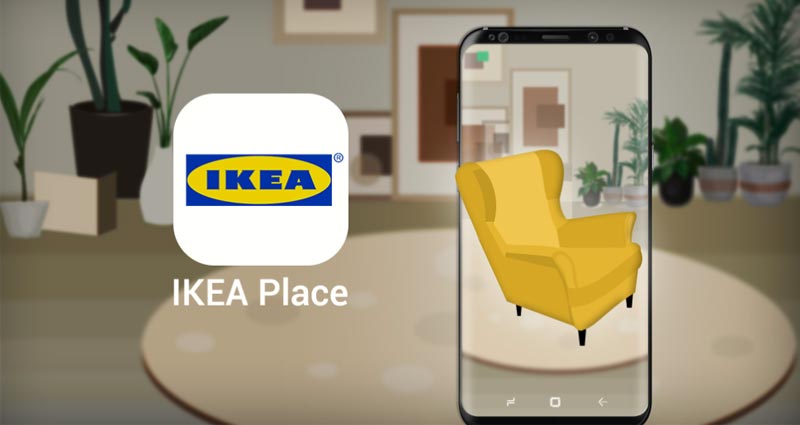 The use of augmented reality is not the only thing that allows IKEA to target its customers. It can be used as a base for a possible IKEA product, heating up consumer interaction. The platform also provides a mobile application that helps users view the established product, utilising augmented reality technology.
Starbucks - Going Mobile, Going Far
In food and drink retail, Starbucks is among the most promising cases of digital transformation. This coffee shop chain opened its' internal venture capital-style incubator for digital technology, ' Starbucks Digital Ventures. They began their digital journey with a mobile application.
As a powerful tool to draw more consumers, create high brand loyalty, and increase overall sales, the company uses their mobile app. The app offers a convenient digital loyalty system that enables consumers the right to receive and redeem their loyalty points ("Stars") inside the app .
This digital loyalty service turned out to be a massive success, currently used by over 12 million consumers in the US. It eliminates old-fashioned membership cards and phone number verification procedures.
The Mobile Order and Pay (MOP) feature is another significant innovation launched by Starbucks as part of the company's digitization. This implies that consumers can order their drinks in advance, pay directly from inside the app, and collect their orders at the store.
Amazon- Cashierless Shopping
Amazon has implemented an advanced alternative for shopping in conventional brick-and-mortar stores, while eCommerce and mCommerce are seen as the future. In New York, Seattle, Chicago, and San Francisco, Amazon GO have thirteen stores. What is unique in such stores is that the purchased products in the shop do not need to be charged for.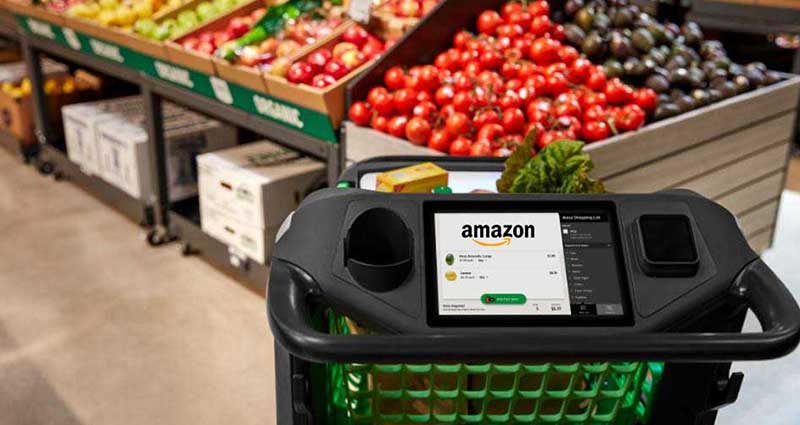 The new store idea is part of the Just Walk Out Experience because that's all you do to buy something with the app. After installing the Amazon GO app, customers connect their accounts to Amazon. In-store devices show the products were bought by a client using computer vision, sensor fusion, and deep learning algorithms (a subset of machine learning).
Walmart- Data-driven Shopping Experience
The retail titan has since increased its digital potential after first releasing its eCommerce website, Walmart Marketplace. A variety of groundbreaking products have been released by its tech subsidiary. Shopping lists (with voice input), digital coupons, geofencing, and targeted offers an indoor navigation are among the capabilities provided by Walmart mobile apps.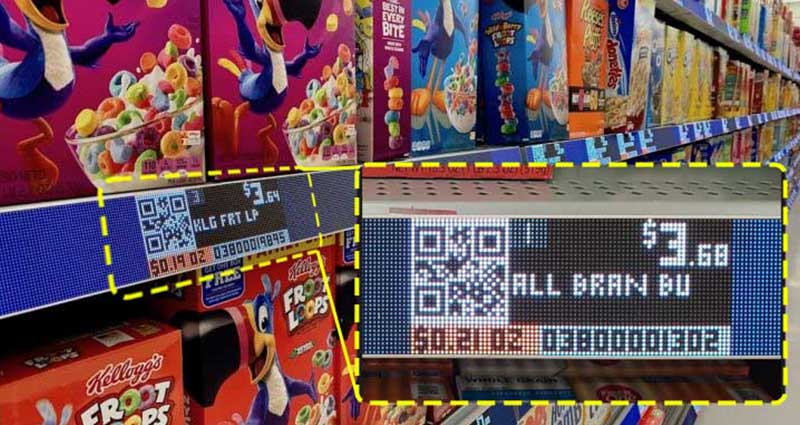 Walmart understands data's potential. Walmart already processes 40 petabytes of data per day. The retail giant is currently working on the largest private cloud solution, which will be able to handle 2.5 petabytes of data per hour, to make sense of all this data.
To personalize the shopping experience, deliver more specific deals, discounts, product suggestions, and simplify checkout and payments, the company is actively using customer data.
Tesco- Leveraging Smart Technologies For Personalization
Tesco's digitalization can be defined in several different ways, as it requires transformation at various levels of its sector. The brick-and-click business model was introduced by Tesco. Online platforms were introduced by Tesco that allowed customers to search and shop online. At warehouses dedicated to online transactions, an individual could then select ordered products.
To strengthen their in-store organization, Tesco took the initiative. In order to do a manual check-out, customers were armed with scanning devices. As you shop, the whole process was called search, and it can be done today with smartphones as well.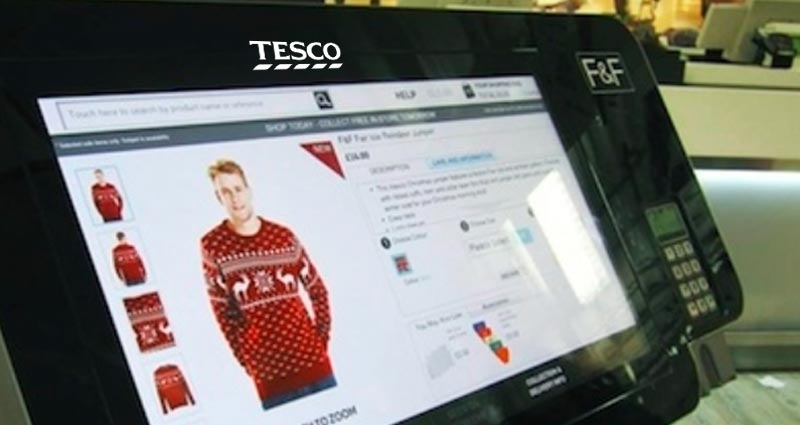 Tesco now uses its mobile app to deliver a better in-store experience, enabling consumers to browse the location of the product store. The further progress of the digital transformation of Tesco continued with the app using AR to show customers and employees the location of the product in the shop.
H&M- Connecting Virtual And Physical Shopping Experiences
H&M is a mass-market luxury clothing and accessories brand in Sweden. It is looking for new ways to enhance the virtual experience of searching, trying, and buying clothes by experimenting with mobile technologies. The Perfect Fit app is one of those examples.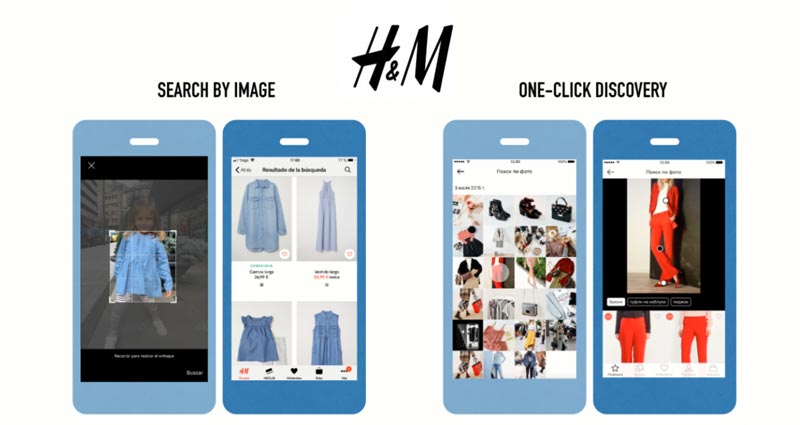 H&M introduced an image search in its app to withstand competition. Basically, it's a Google image search for clothes from H&M. To find similar clothes from H&M, it helps you to check the image on the billboard, or Instagram. To select the appropriate results from the quest, the app uses smart algorithms, compiling a list of matching objects.
Kroger- Digital Price Tag
Kroger, the US grocery chain, has rolled out digital price tag technology in hundreds of shops. The technology, called 'Kroger Edge', displays pricing and nutritional information digitally, allowing the store to update it instantly and remotely. Kroger has also announced plans to integrate the technology with the smartphones of shoppers to align with shopping lists and alert them about what items to look for.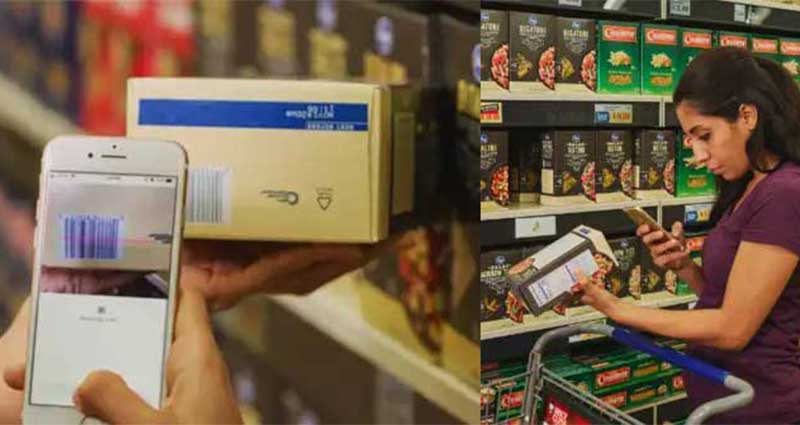 Customer experience aside, the technology is said to have the greatest effect on the sustainability efforts of the retailer. With the environmental problems of both brands and consumers becoming increasingly concerned, Kruger Edge could be an example many other retailers will soon want to follow.
Wrapping Up
Retail, like any consumer-centered industry, places online and in-store customer experience as a priority. It is the primary task of any modern retailer to optimize this experience for the digital age. By mixing online and offline experiences and establishing a strong omnichannel presence, brands can win.
In order to maintain a competitive edge in the market, the changing nature of the retail industry makes it necessary to integrate advanced technologies into operations. With the infusion of advanced technologies, the digital transformation of services is continually evolving.